Published On:
Posted by admin
Project Senior Executive
National Institute of Ocean Technology
General administration of field office and report to head quarters at Chennai. The tasks will involve maintenance of office correspondence, accounts and stores inventory, local purchases, travel arrangements and assisting NIOT personnel in carrying out their technical work.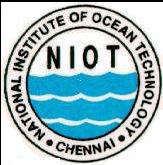 Address: NIOT Guest House 1st Floor, Anand Complex, Nilambag Palace Hotel, Diary Road Bhavnagar
Postal Code: 364 002
State Gujarat
Pay Scale: Rs. 26,300
Educational Requirements: 1. A bachelor's degree from a recognized University, basic knowledge of computer. 2. Minimum 15 years experience in Govt./PSU/Autonomous Bodies/ in the relevant area.
Qualifications: Post Graduation. Experience in administration, accounts, stores and purchase with audit. Candidate should have good communication skill.
No of Post: 1
How To Apply: A Walk – in – Interview is scheduled to take place at the address mentioned below on 16.10.2012 (Tuesday) between 09.00 a.m. and 12.00 noon.
NIOT Guest House 1st Floor, Anand Complex,
Nilambag Palace Hotel, Diary Road
Bhavnagar, Gujarat – 364 002
Ph.no. 0278-2513330
Date of Interview: 16.10.2012 (Tuesday) between 09.00 a.m. and 12.00 noon
Age Limit: 40 Years