Published On:
Posted by admin
Secretary to Vice Chancellor
Central University of Punjab (CUP)
Address: University of Punjab, City Campus, Mansa Road
City Bathinda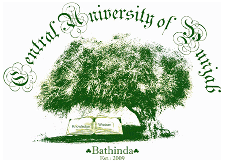 State Punjab
Educational Requirements: Postgraduate degree in any discipline with good credentials from a recognized university.
Qualifications: i. MBA or equivalent degree/diploma in Office Management and Secretarial practice from a recognized institute/university. ii. Good knowledge of computer applications.
Experience Requirements: Five years experience as office secretary to any CEO/senior official in university/educational institute/Public Sector organization or equivalent administrative position
Desired Skills: Good communication skills in English and Hindi/Punjabi along with knowledge of drafting.
Details will be available at: http://www.centralunipunjab.com/NonTeaching/Details%20of%20PS%20and%20PA-NT-08-2012.pdf
No of Post: 01
How To Apply: The completely filled in forms should reach Central University of Punjab, City Campus, Mansa Road, Bathinda on or before 15th October 2012 by 5.00 p.m.
Last Date: 15th October 2012